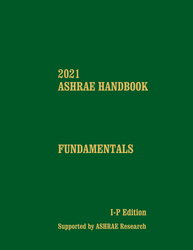 Important Note from ASHRAE:
The 2021 ASHRAE Handbook-Fundamentals was published in June without the intended updates to the following chapters:
Ch. 13, Indoor Environmental Modeling
Ch. 14, Climatic Design Information
Ch. 18, Nonresidential Cooling and Heating Load Calculations
Ch. 19, Energy Estimating and Modeling
Ch. 23, Insulation for Mechanical Systems
Ch. 24, Airflow Around Buildings
ASHRAE apologizes for this delay and inconvenience and appreciate your patience as we work to update these chapters and make them available to ASHRAE Members and the public. The additional updates to the Handbook include extensive updates to tables for nonresidential load calculations, new and expanded climatic design guidance, and important new information on insulation for mechanical systems.
ASHRAE expects to have the chapter updates and the complete, updated 2021 ASHRAE Handbook-Fundamentals available in the ASHRAE Technology Portal in August 2021. We will alert you via email as soon as it is available in the Technology Portal.
Purchasers of the print edition of the 2021 Handbook will receive access via email to the PDFs of the entire volume's chapters when the updates are complete at no charge.
The 2021 ASHRAE Handbook—Fundamentals covers basic principles and data used inthe HVAC&R industry. Its more than 1,000 pages cover basic principles suchas thermodynamics, psychrometrics, and heat transfer, and provide practicalguidance on building envelope, indoor environmental quality, load calculations,duct and piping system design, refrigerants, energy resources, sustainability,a new chapter on climate change, and more. Climate data for over 9000 weatherstations worldwide are provided as a separate download (approximately 700 MBzip file).
Citation: 2021 ASHRAE Handbook
Product Details
Published:

2021

ISBN(s):

9781947192898

Number of Pages:

1024

Units of Measure:

I-P

Product Code(s):

81210