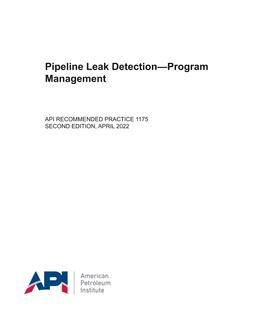 API Recommended Practice (RP) 1175 establishes a framework for Leak Detection Program (LDP) management for hazardous liquid pipelines that are jurisdictional to the U.S. Department of Transportation. This RP is an industry consensus document revised by hazardous liquid pipeline operators, leak detection manufacturers, consultants, and others. API RP 1175 focuses on using a risk-based approach to each operator's LDP. Reviewing the main body of this document and following the guidance set forth assists in creating an inherently risk mitigating LDP management system. API RP 1175 represents industry best practices in managing an LDP.
All leak detection systems (LDSs) used by a pipeline operator should be managed in a coordinated manner. The goal of the LDP is to detect leaks quickly and with certainty, thus facilitating quicker shutdown and therefore minimizing negative consequences. This RP focuses on management of LDPs, not the design of LDSs, and therefore contains relatively little technical detail. As with API RP 1130, API RP 1175 is intended for single-phase pipelines only; however, the approach may be applicable to pipelines that are not single phase.
Leak detection reduces the consequences of a LOC but does not reduce the likelihood of a leak. An appreciation and evaluation of leak event likelihoods, threats, and vulnerabilities drives the design of the LDP.
Product Details
Edition:

2nd

Published:

04/01/2022

Number of Pages:

86

File Size:

1 file , 2.2 MB

Product Code(s):

D11752, D11752, D11752

Note:

This product is unavailable in Russia, Cuba, Syria, North Korea, Ukraine, Belarus, Iran