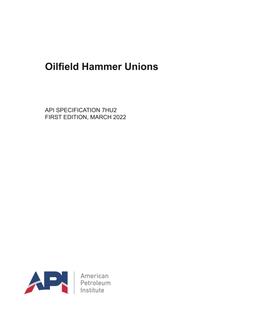 API's Specification (Spec) 7HU2, Oilfield Hammer Unions, 1st edition, is a global safety standard to address the incompatibility of hammer union components, a common issue in the industry that has led to equipment mismatching incidents. Its application will serve to improve operations through interoperability of a field proven standard design.
This standard specifies minimum requirements for the dimensional and functional interchangeability, design, materials, inspection, marking, storing, and shipment of hammer union parts and assemblies for use in the petroleum and natural gas industries.
Spec 7HU2 is a manufacturing standard that builds on API Recommended Practice 7HU1, Safe Use of 2-inch Hammer Unions for Oilfield Applications, with input from a balanced committee including representatives from global operators, manufacturers, service and supply organizations and trade associations.
Product Details
Edition:

1st

Published:

03/01/2022

Number of Pages:

50

File Size:

1 file , 4.1 MB

Product Code(s):

H7HU21, H7HU21, H7HU21

Note:

This product is unavailable in Belarus, Cuba, Iran, North Korea, Russia, Syria, Ukraine