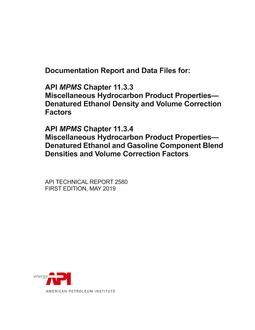 The purpose of this technical report is to assemble and make available the various foundational data and materials used in the development of API MPMS Chapter 11.3.3 and API MPMS Chapter 11.3.4. It includes the historical reports and spreadsheets used as is, without update or reconciliation for any later changes. This document does not extend, modify, or otherwise change anything in the standards as published by API.
Users should not attempt to develop their own implementations of the standard calculations from this document.
The user is directed to the published implementations in the standards. This document contains only the background materials, not the standards, nor any computer implementation of the standards. Only the final versions of materials have been included. Some graphs within the spreadsheets may not appear the same as in published documents because the authors may have changed settings or data filters in the spreadsheets subsequent to copying the graphs for publication.
Annex A through Annex G materials are available in files for download from API Publications for purchasers of this document. Annex H is included in this document.
Product Details
Edition:

1st

Published:

05/01/2019

Number of Pages:

33

File Size:

1 file , 820 KB

Product Code(s):

H258001, H258001, H258001

Note:

This product is unavailable in Cuba, Iran, North Korea, Syria