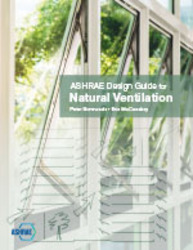 Expert Guidance on Designing and Implementing Natural Ventilation
ASHRAE Design Guide for Natural Ventilation provides a comprehensive overview of the application of natural ventilation in modern buildings. In addition to a thorough discussion of terminology and key concepts related to the physical principles of natural ventilation, this guide also covers how to conduct a multifactor analysis to determine the feasibility of implementing natural ventilation in a building. This guide also expands on currently available natural-ventilation-related standards and codes from ASHRAE and other organizations, and includes case studies of buildings from around the world that are excellent examples of best practices for the implementation of natural ventilation and worked examples are included. This guide is accompanied by supplemental appendices, which are available online in PDF format. In addition to in-depth information about the design of natural ventilation projects, they also provide more results of an analysis of natural ventilation systems for cities of varying climates.
Written by two leading experts in the field, ASHRAE Design Guide for Natural Ventilation assists engineers, architects, building owners, facilities personnel, and building design professionals in exploring the feasibility of natural ventilation for their projects during the early phases of design as a way to encourage designing energy-efficient naturally ventilated buildings.
Citation: ASHRAE Book
Product Details
Published:

2021

ISBN(s):

9781947192553, 9781947192546

Number of Pages:

350

Units of Measure:

Dual

File Size:

1 file , 32 MB

Product Code(s):

D-90306, 90306