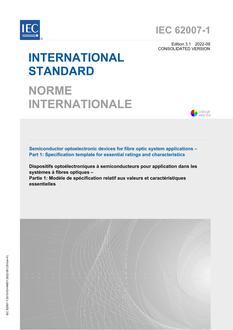 This part of IEC 62007 is a specification template for essential ratings and characteristics of the following categories of semiconductor optoelectronic devices to be used in the field of fibre optic systems and subsystems:
– semiconductor photoemitters;
– semiconductor photoelectric detectors;
– monolithic or hybrid integrated optoelectronic devices and their modules. This part of IEC 62007 provides a frame for the preparation of detail specifications for the essential ratings and characteristics.
In using this part of IEC 62007, detail specification writers add but do not delete specification parameters and/or groups of specification parameters for particular applications.
Product Details
Edition:

3.1

Published:

09/01/2022

ISBN(s):

9782832257647

Number of Pages:

142

File Size:

1 file , 1.6 MB

Note:

This product is unavailable in Ukraine, Russia, Belarus