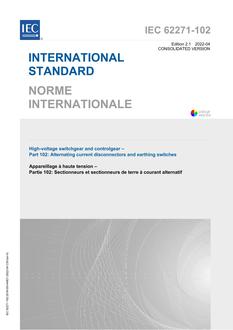 This part of IEC 62271 applies to alternating current disconnectors and earthing switches, designed for indoor and outdoor installations for nominal voltages above 1 000 V and for service frequencies up to and including 60 Hz.
It also applies to the operating devices of these disconnectors and earthing switches and their auxiliary equipment.
Additional requirements for disconnectors and earthing switches in enclosed switchgear and controlgear are given in IEC 62271-200, IEC 62271-201 and IEC 62271-203.
NOTE Disconnectors in which the fuse forms an integral part are not covered by this standard.
This document is also applicable to switching devices having disconnecting and/or earthing functionalities apart from other functions, such as high-speed earthing switch, circuit-breaker and switch-disconnector.
Product Details
Edition:

2.1

Published:

04/01/2022

ISBN(s):

9782832211057

Number of Pages:

450

File Size:

1 file , 4.5 MB

Note:

This product is unavailable in Ukraine, Russia, Belarus