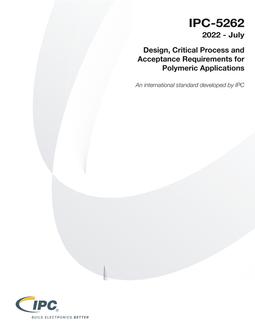 This document prescribes the minimum design, critical process and acceptance requirements for the application of polymeric materials to electrical/electronic components, modules, printed wiring assemblies and other elements thereof.
IPC-AJ-820, IPC-HDBK-001, IPC-HDBK-830 and IPC-HDBK-850 are companion documents to this specification. They contain valuable explanatory and tutorial information compiled by IPC Technical Committees that is relevant to this specification.
Although the handbooks are not a part of this specification, when there is confusion over the specification verbiage, the reader is encouraged to refer to the handbooks for assistance.
Reference materials listed in this text are recommended reading. The User is encouraged to obtain all relevant referenced materials as this document cannot (nor can any single document) cover every material, process, environment, performance or safety aspect that affects a given design.
Product Details
Published:

07/01/2022

ISBN(s):

9781638160922

Number of Pages:

68

File Size:

1 file , 2.7 MB

Product Code(s):

5262-STD-0-D-0-EN-0, 5262-STD-0-D-0-EN-0

Note:

This product is unavailable in Russia, Ukraine, Belarus