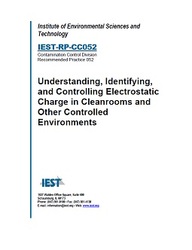 This Recommended Practice (RP) provides a basis for understanding how electrostatic charge occurs. This RP discusses problems caused by electrostatic charge in cleanrooms, as related to particle management, physical damage from discharge and process interruptions from transient electromagnetic interference (EMI). This RP also provides suggestions for identifying and resolving such risks by means such as dissipation of charge from conductors and process-essential insulators that have an opportunity to interact with ESD sensitive (ESDS) items. Such conductors include personnel, conductive components in production equipment and associated fixtures.
This RP discusses sources of electrostatic charge generation in cleanrooms and other controlled environments and how the environment, products and equipment will be affected when such charges are uncontrolled. Methods for monitoring the risk of electrostatic charge issues, minimizing generation, and selection of equipment for the remediation of charges will also be discussed.
The user is referred to step by step procedures for measurement of electrostatic issues in standards and recommended practice documents by the ESD Association. This RP provides supplemental information which is required to understand and execute the prescribed measurements.
Product Details
Published:

08/01/2021

ISBN(s):

9781937280468

Number of Pages:

68

File Size:

1 file , 1.9 MB