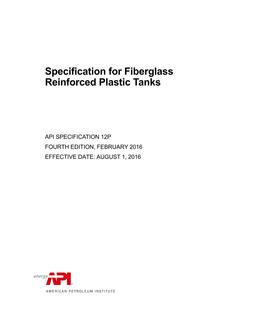 This specification covers material, design, fabrication, and testing requirements for fiberglass reinforced plastic (FRP) tanks. Only shop fabricated, vertical, cylindrical tanks are covered. Tanks covered by this specification are intended for above ground and atmospheric pressure service. This specification applies to new tanks. The requirements may be applied to existing tanks at the discretion of the owner/operator.
This specification is designed to provide the petroleum industry with various standard sizes of FRP tanks. Because of the versatility of FRP tanks, the user shall be responsible for determining the suitability of FRP tanks for the intended service.
Unsupported cone bottom tanks are outside the scope of this specification.
Product Details
Edition:

5th

Published:

05/01/2022

Number of Pages:

30

File Size:

1 file , 1.3 MB

Product Code(s):

G12P05, G12P05, G12P05

Note:

This product is unavailable in Russia, Cuba, Syria, North Korea, Ukraine, Belarus, Iran